Sean Berube's Internship Overview
This week, we say goodbye to our latest Marketing intern, Sean Berube. He is in his final year at UMass Lowell, working towards his bachelor's degree in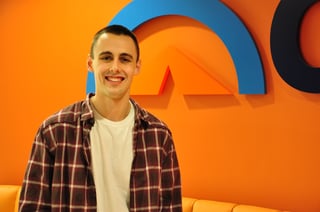 English with minors in computer science and mathematics. On the side, Sean is a singer/songwriter, currently working on his latest song, "Royalties," and hopes his future endeavors will allow him to explore music more. Sean wants to pursue a career in business, similar to what he experienced here at Cognition. He helped us write a good handful of blog and article material in his time here and we hope he will be coming back sometime to work with us again! We sat down to reflect with Sean about his time here with Cognition, figuring out what he learned and enjoyed.
What would you say was the most important lesson you learned while you were here at Cognition?
Sean: I think what I pulled most from [this internship] was learning to have the humility and understanding to take in the information from those around me. The environment here is conducive to helping learn better to work alongside others. In my writing, I was able to gain a better idea of how to keep the audience intrigued, and to ask: what is the goal, and am I getting my message across?
Now, what was the most fun or enjoyable part of your internship?
Sean: It was being able to grow my creativity and not get stuck in the proverbial "box." I felt like I could excel, grow, and learn about myself here. They were willing to be open to new ideas. It is a great atmosphere, friendly, with great coworkers. Whether it's lunch or going out for coffee, it has been very pleasant walking into this office, and I've always felt welcome. Even Cognition's CEO David Cronin got to know me and dubbed me Cognition's "Anti-Obfuscation Author."
What was the hardest or most difficult aspect of the internship?
Sean: Learning to practice patience, persistence, and perseverance. I didn't feel like complete failure would ever happen, but I learned just because one blog or writing assignment came out great, it didn't mean every piece would be like that from the get-go. I have a greater awareness of the impact my work has on others. Knowing why I am doing this work gave me more motivation to do a good job. I didn't feel like I was doing busywork, but actually contributing to the company.
What is something you got from here that you felt was of value?
Sean: The biggest value behind Cognition is it seems very employee-centric. My coworkers were undoubtedly more aligned with "how can we help you do your best" instead of "why haven't you met expectations." Overall, the environment is extremely conducive to growth, and made me more motivated to come back and do more.
What would you say to the next person taking the internship position here at Cognition?
Sean: If you are a good writer and enjoy it and want a valuable, genuine experience in the business world, a good place to start--or continue--to grow, is Cognition. You will learn a lot in my opinion. I couldn't have asked for a better environment; as an intern it's all I could expect and more.
From all of us in the Marketing department, we want to say thank you to Sean, and that we wish him the best in his studies and travels! We all enjoyed having Sean here. We are reopening our Marketing Internship program to students for the summer. It is a comprehensive, 12-week program designed to give qualified undergraduate students experience in the world of marketing and sales.
Want to learn more about Cognition? Visit our new site, http://www.cognition.us
Want to learn more about an internship at Cognition? Email [email protected] with your resume and cover letter, and what department you are interested in!
Be sure to follow us on social media!