Michelle's Moment: Medical Device Single Audit Program to Ensure Regulatory Compliance
Pulse Check: Medical Device Single Audit Program (MDSAP) International Coalition Pilot Program
Michelle's Moment: The goal of the MDSAP is to allow a single audit or inspection to ensure the medical device regulatory requirements for all five countries are satisfied in an efficient, yet thorough, manner. Third party auditing organizations will conduct the audits and medical device regulators in the participating countries will be able to use these inspection reports when making regulatory decisions.
The intended benefits of the program are to:
Reduce participating regulators' need to individually perform inspections
All participating regulators will have the same reliable information about inspectional findings
There will be a decrease in the number of regulatory audits a manufacturer will have to host, thereby minimizing disruption
There will be a lowered burden on manufacturers by bringing more consistency and transparency to the regulatory process
There will be no increase in regulations or regulatory requirements for medical device manufacturers, as the audit will cover only the existing requirements of participating regulatory authorities. Many of these are already harmonized or are very similar. An added benefit to the manufacturers that market in the United States is that the FDA will recognize the MDSAP as a substitute for routine FDA inspections typically done every two years for all classes of medical devices and IVDs. This will not be a substitute however, for pre-approval and "for cause" compliance inspections.
The audit focus however, will be impacted as risk management will now be assessed in all key functional areas. According to the MDSAP Audit Model (MDSAP AU P0002), audits performed will be process based, focused on (1) Management; (2) Measurement, Analysis and Improvement; (3) Design and Development; (4) Production and Service Controls, and a supporting process; (5) Purchasing as well; (6) Device Marketing Authorization and Facility Registration; and (7) Medical Device Adverse Events and Advisory Notices Reporting, a defined method for linking those processes and built on a foundation of requirements for risk management and comprise the requirements of a quality management system for medical device manufacturers -- ISO 13485:2003, RDC ANVISA 16/2013, and 21 CFR 820. The audit sequence defined in the audit model indicates that risk management will be assessed in each of the four main processes audited: (1) Management (2) Measurement/Analysis and Improvement (3) Design and Development and (4) Production and Service Controls.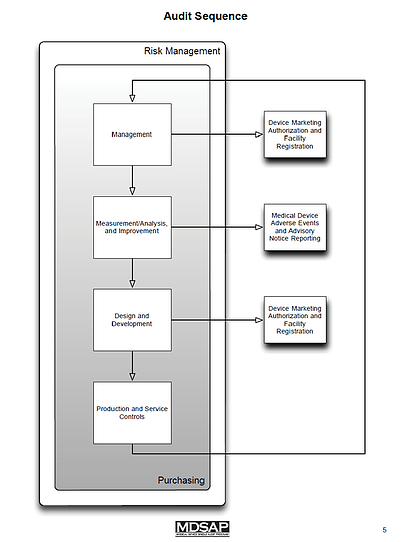 In addition, according to the 2015 MDSAP Announcement to Medical Device Manufacturers, upon the successful conclusion of the pilot, Health Canada intends to implement MDSAP as the mechanism to achieve regulatory compliance for quality management system requirements in Canada.
Some auditing organizations that are eligible to submit to the MDSAP pilot include BSI, Intertek, TUV Rheinland of North America, Inc., TÜV SÜD America Management Services Division, TÜV USA, Inc., and UL, LLC.
Success of the pilot will be evaluated based on factors such as the satisfaction of the participating regulators that public outcomes are not diminished and that the resource efficiencies have been achieved, as well as the level of uptake by industry and other factors.