4 Benefits of Agile Product Development in the Medical Device Industry
Agile is an umbrella term for several iterative and incremental software development methodologies. Each one is unique in its approach; however, they all share a common set of core values which incorporate continuous feedback, planning, testing, and integration of the project and software used to facilitate the this process. It is, simply, a way to organize information efficiently when developing a product. It can be applied to product development outside of software as well.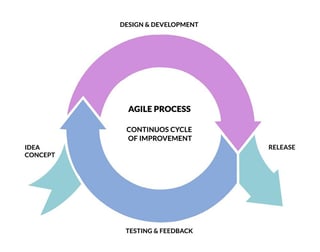 This approach to product development is becoming increasingly popular in the medical device and pharmaceutical industries. These approaches infer a party must complete one development activity before starting the next. The methodology promotes more control and visibility because of its organizational structure. Boris Gloger Consulting, in a white paper on introducing Agile product development in medical technology, says "Many companies have to ask themselves, how, under current regulatory frameworks, product development can be faster, less cost intensive while still providing premium quality products?" A valid answer to all those issues is implementing an Agile methodology. While there are many positive aspects to it, we will focus on these four.
1. Look at AAMI Guidance and INCOSE (They like Agile!)
The Association for the Advancement of Medical Instrumentation (AAMI) encourages the use of Agile development. In 2012, AAMI released the TIR45 guidance document to help medical device software design and development companies work in Agile to comply with regulations and standards. It also shows clear collaboration with the all-important IEC 62304 standard. And the INCOSE Healthcare working group recently had a conference focused around Agile systems in healthcare practices and plans to do more in the coming years.
2. Faster Time to Market
Everyone in the development team--and all necessary parties--can fully view the essential pieces of a project, which makes it easier to indicate and implement comments and changes. This leads to efficiency in data and time management; workers are no longer duplicating efforts or wondering where data is, or if it exists at all. With Agile development systems that detail all the indispensable parts, teams can increase the chances of faster delivery while simultaneously assuring compliance with regulations and standards set by local regulatory or government bodies.
3. More Motivated Employees
A unifying project scope, as developed through Agile, makes working on and completing the project together easier, with more effective development and communication throughout. Teams that can communicate well are more successful. Another benefit to a unified approach is less repetitive work. In her notes for a webinar that discussed hybrid systems of traditional project management and Agile, author Heather Champoux states, "Simply put, protect your resources from entering data into multiple systems, spending extra time searching for information that could be used getting work done, and bring your employees together on a united collaborative front. The result – happier employees, higher productivity and a much bigger return to the business!"
4. Better Management of Design Change
Design changes are inevitable as products develop, but companies may still end up drifting, missing a key element, or adding something that is unwanted into a design even if they think they have a good understanding of the market initially. For example, early users may request a last-minute addition to features, and this prompts a change in scope. If it's rushed through development, it can then lead to defects later that weren't foreseen at the beginning. This causes even more wasted money and time according to Jamme Tan of Med Device Online. He says that this is "where most software-related defects causing product warnings and recalls occur."
Overall, Agile is a proven approach to product development for medical device, pharmaceutical, and combination product teams. Cognition uses Agile in our own development process. The stages of our project management are based on the Agile Development Process and are managed by the development team within the Cockpit Platform.
Learn More About How Cognition's Cockpit Platform Can Help You
Download our Workflow Case study below to learn more about how Cockpit could help your company with its Agile needs.