Annual Cognition Clam Bake 2017
Every summer, Cognition Corporation holds its annual company clambake. We invite our employees, families, and friends to join us for this spectacular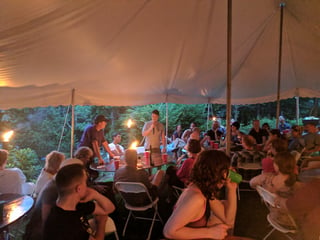 weekend excursion held in Cape Cod. A big thank you goes out for the hard work our staff does throughout the year; without all that work, none of what Cognition does would be possible. This year, we saw our attendance grow, with nearly 100 people, including new crew members from Indiana
Feeding everyone is no small feat. We go to local markets like Cataumet Fish and fill three to four shopping carts full of food, snacks, and meals for those coming to help set up on top of food for the large amount of guests.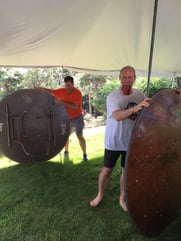 After buying the food comes preparing the outdoor cooking area. All burners on the grill and single pot burners need to be tested, cleaned and made ready, counters must be cleaned, and everything put in place for things to run smoothly the next day.
The morning of the clambake, while the tide is rolling out, we finish prepping the outdoor cooking area by digging our clambake pit. Fire heats the rocks in the pit for several hours.
Once the rocks were hot enough, we were ready for the main event. The ashes were dug from the pit and seaweed collected
from a nearby harbor was added. Once the foundation was formed the food was added: clams, lobsters, and a variety of vegetables, followed by additional layers of seaweed. After everything was added a large canvas tarp was placed over the hole to commence the cooking. Small rocks and sand were placed around the edge to ensure the steam did not escape, making for the perfect cooking conditions. Once enough time had passed we, as a group, harvested the food from the baking pit.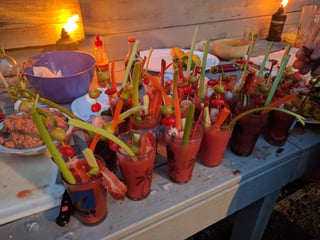 David Cronin, Cognition's CEO, loves to treat people with special dishes in addition to the food we cook in the pit; he makes us homemade guacamole cruda, spicy tuna hand rolls, and signature drinks including rhubarb gin and tonic (with homemade rhubarb syrup), and his wild, full-plate Bloody Marys
One of Cognition's good friends, Jason Fletcher, added to the menu with his homemade ice cream and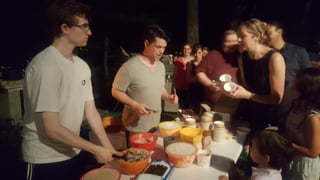 sorbet! Jason is opening Fletcher's Ice Cream in Minneapolis and the samples he made for us were incredible. They included cookies and cream, coffee oatmeal stout (made with local craft beer), and watermelon and lemon sorbet. It was truly a treat.
Overall, the 2017 Cognition Clambake was a huge success; everyone had a grand time. All that prep work with shopping, cleaning, and cooking was worth it to see how happy our guests were. We want to give something great to our employees and we hope to do it every year with even more people next time!
To view more pictures and video from the event click here!