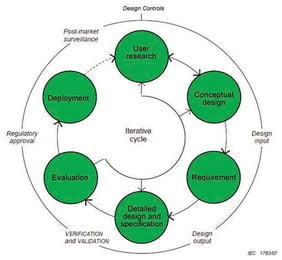 Pulse Check: New Revision for ISO 62366-1 Application of Usability Engineering to Medical Devices
Michelle's Moment: Last month, I had attended a "Meet the Experts" event sponsored by UL. The day was very informative with presentations by their experts on human factors engineering (HFE), 60601-amendment update, risk management, and material characterization. One topic of particular interest covered the recent changes to ISO 62366-1 Application of Usability Engineering to Medical Devices which was updated in March. Somehow amid the myriad of other regulatory changes this year, this one managed to slip by me! For others who may have missed the revision, here are some highlights:
One outcome of the revision resulted in better alignment with terminology the FDA HFE guidance.

The are now TWO parts to the standard:

Part 1 - Sets requirements for the usability process.

Part 2 - Is a tutorial on applying HFE to medical devices (anticipated release late 2015/early 2016)

The focus of the standard was narrowed to use-safety rather than applying usability as a whole.

The need for an HFE program pan is no longer explicit.

"Application Specification" is now "Use Specification".

"Usability Specification" is now "User Interface Specification".

The requirement to identify primary and frequently use functions was removed.

The standard no longer contains a suggestion to set usability goals and acceptance criteria.
I will dig a little deeper into the revisions in my July webinar, so be sure to register now:
Want to learn more about the recent regulatory changes? Download your free copy of the May 2015 Pulse Check:
Still don't have your fix? Check out the previous Pulse Checks here!
Want to learn more about Cognition? Visit our new site, http://www.cognition.us, or download our Cockpit Overview Slideset below!
Request a demonstration of Cockpit by calling David Cronin: 508.245.2142 or schedule an appointment here (https://www.timetrade.com/book/JXG5C) or email the sales team (sales@cognition.us)
Be sure to follow us on social media!