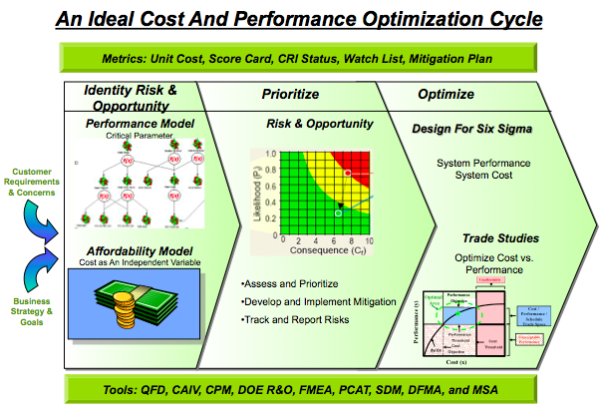 Cognition is excited to once again participate in the Raytheon 2013 Systems Engineering and Architecture Technology Network Symposium Supplier Event. The event will be held at the Raytheon IIS Facility in Sterling, Virginia on Tuesday, August 20 and Wednesday, August 21. This year's theme is "Today's New Reality: Transformative System Engineering in a Low Cost, Technically Acceptable Procurement Environment". Cognition will be showcasing a lot of the exciting work we have been doing in product development and systems engineering for complex systems of systems, such as:
How engineers discuss cost analysis in real time in Cognition Cockpit on the web

Using Cockpit to manage cost reduction initiatives

Using Cockpit to perform Cost As an Independent Variable (CAIV) studies

How Cockpit manages Technical Performance Measures (TPM)
Another topic of interest we will be discussing at the symposium is cost management using our Enterprise Cost Management (ECM) software. ECM links with Cognition Cockpit and uses a Work Breakdown Structure (WBS) to improve critical parameter management. ECM is used to analyze the impact of risks and future design changes on cost and weight. Companies can create work breakdown structures just once and be able to reuse them for any future projects. The main goal of ECM is to help teams see where they are in a project and where it is heading in relation to cost, weight, and other metrics.
It will be good to spend time with our many friends at Raytheon and share all of our advanced new work in systems engineering with them.
Want to learn more about Cognition? Visit our new site, http://www.cognition.us, or download our Cockpit Overview Slideset below!
Request a demonstration of Cockpit by calling David Cronin: 508.245.2142 or schedule an appointment here (https://www.timetrade.com/book/JXG5C) or email the sales team ([email protected])
Be sure to follow us on social media!